(tm)
Otter Productions creates repeatable fun!!
We are a Maryland and Pennsylvania based group of comic performers specializing in improvisation and interaction; performances that are so unique and so much fun that you'll look forward to coming again and again.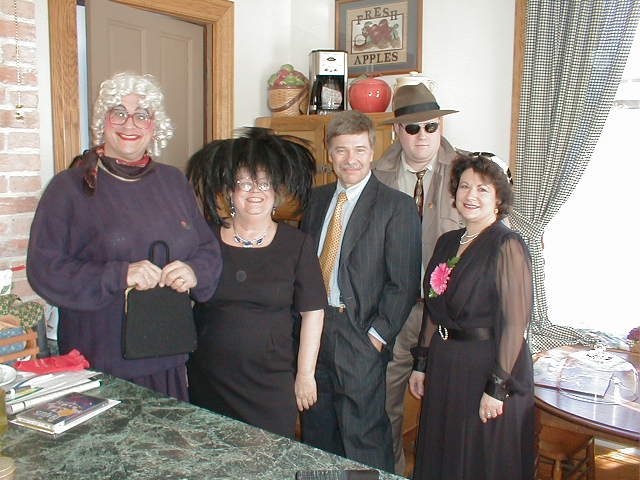 See below for THE PUBLIC SHOW SCHEDULE and how we can co-create a fun-filled event TBA SOON.


Follow us on

Below you will find current projects and the eclectic diversity of our talents. We as individuals have not just years but decades of experience in the entertainment industry including just about any venue you can imagine. Just with Otter Productions alone we have conservatively near 100 corporate accounts in our experience; we have been in business since 1995.
Originally we were formed to provide murder mysteries aboard dinner trains in both the Maryland and Pennsylvania areas; some of us performed on trains previous to this for other organizations. We did so with extreme success both on the Entertrainment Line in Western Maryland as well as the Liberty Limited in New Freedom, Pennsylvania. Those trains have long since gone out of business and now we have various locations from central Pennsylvania to western Maryland.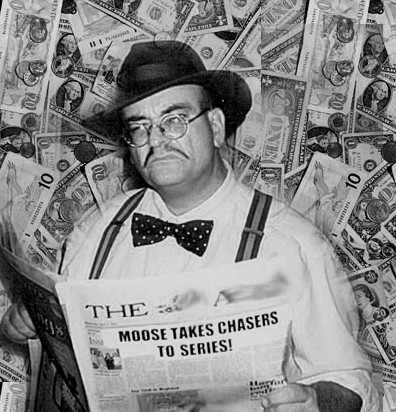 Our purpose or mission is to provide the best interactive audience participatory comical performances which are second to none. Each show is a new creation which means each show is new and continued fun.
Whether we are performing, performing and interacting, doing team improvisation, or providing information or training for others to experiment with this concept of improvisational performing and/or living, we are tapping into the limitless potential - wherever we are, at any moment - on a journey of searching for the true freedom of the individual.
In case you wonder how we can offer so much fun that is different each time, here's a bit of information about how we do that.
We improvise, we adapt to conditions and audience response - which audience members appreciate -- causing even more fun to be had by everyone. (So we can adapt to difficult conditions or circumstances.)

We customize each performance.

We adapt to audience members and the mood of the audience as a whole.

We're so adaptable that we don't have just certain periods where audience members can interact with us, we're ready to engage at a moments notice. All audience members can interact with us all the time.

We're so much fun that we seldom have hecklers; and if someone does start to heckle, we work them into the performance in such a way that the performance continues to be fun for all audience members and may in fact be enhanced.

When we make a mistake, we build on that and turn it into more fun -- sometimes this helps make a performance even better and more unique than it would have been otherwise. This builds huge rapport with audience members.
We produce shows where the audience is totally invested in the experience. The stage is the entire environment which is transformed into comical fun.
Our style is improvisational which is different from other companies. Other groups tend to have part script and part improvisational performance; there is interaction with audience members but for limited periods of time. We, instead of having a performance depending on the vision of a director, let the team of performers provide their best interpretation and support for other members of the team. The fluidity of the show then fits the needs of the night and audience, allowing performers the flexibility to provide, at a moments notice, their best efforts.

Why should you care? If you want a traditional theatrical experience, then there is a certain experience you will expect. Most of us come from this background where we have had much success. The play is over there or up there and the audience is over here observing. Interacting or changing what has been pre-determined may prove difficult. There is no doubt that this is a wonderful art form. We don't want to compete with this; we just love to do something entirely different which is more of an exaggeration of real life. Reality is over-rated; whatever is true is what you want of a situation. If the whole world is a stage, let's have a party and find the joy that is everywhere.

We do not live in a plug and play world. All the best plans often go astray. Whether you like it or not very little of our lives are scripted and we end up getting through the best we can by making it up as we go along. You can plan all you want and determine what people will do and enjoy but when you hit the deck and the action begins, everything changes. Actors prepare so that the performance goes on regardless what happens on that stage. Our performers prepare for whatever might happen not only among themselves but with the audience whom we consider to be on stage with us.
No one can quite predict what will happen, which is where a total improvisational/interactive style comes to the rescue. Audience members are given an experience which is deeper and better than elsewhere because they have participated in a fun way. There is no way we can get enough of anything that is fun.
For details contact me, Herb Otter, Producer.




Improv For Your Life :Team Building/Improvisation/Interaction
We live in a world where few people are really paying attention. THIS Training is not to create comedians but to help any group to work together better, create more, simply by listening and responding as a member of a "team". We as a society are lost in our own world whether one we created or through some sort of modern instrument whether it is TV, the Internet, a hand held or another "communicative" devise. Sadly it affects what goes on in public and even sadder what goes on in the every day work world. It does not matter what social order or age category, or whether it is in product creation or customer service or the consumer himself. Regrettably, lack of focus happens even with the artist and the performer. Business and society suffer from lack of attention, following a linear path regardless of its failure to be of any good, and not daring to think outside of a predetermined box, if there is any thinking at all. There is a lack of concern for others and increased anger which we have all noticed everywhere. Improv is one of the cures that can counter this trend. Within a short period of time, participants can experience the lost arts of paying attention, being in the moment and experiencing the wonder and joy of life as it transforms right in front of them. Improv can be a way of life and a way for business. Teaching improvisational skills and improvisational comedy to non performers is an extremely useful business tool in team building, improved communication, creative thinking, and much more. Having fun and laughing is a most effective way of learning and having any organization function. Contact us; we can accomplish a lot in a short period of time. Article in Baltimore Sun: Click on page 9 for The Power of 'yes and'
'
The Murder Mysteries:
Let our experienced company of professional actors transport you into a realm of murder. Watch or become a part of a fun filled afternoon or evening of entertainment one could die for, with laughter as a deadly weapon. To paraphrase Alfred Hitchcock: "Murder can be a pleasant experience even for the victim, as long as all those involved behave as ladies and gentlemen".
Please note: We can provide shows with actors or we can provide shows that involve only you and your group as the performers (we call these second type of shows "guided" since we are generally there only to guide your "actors"); or we could provide a combination of the two type of shows. We have guided plays with as few as 20 characters and as many as 60.

If you think you might want to handle the details yourself, we can provide "guided" mysteries with instructions for your party or event.
---
---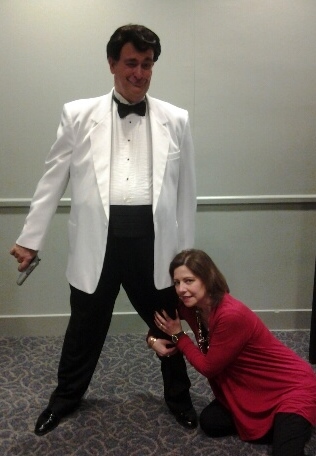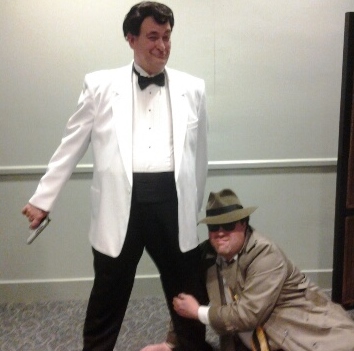 The Comedies:

Pure improv, this is the essence of what we do. This full length show is based solely on audience suggestions.
We are perfect for sales meetings, lectures, demonstrations, parties, public events, private events, and for anything you make up and any space you provide.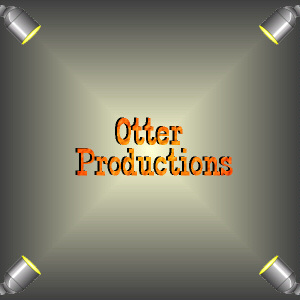 e-mail at Herb@otterproductions.com